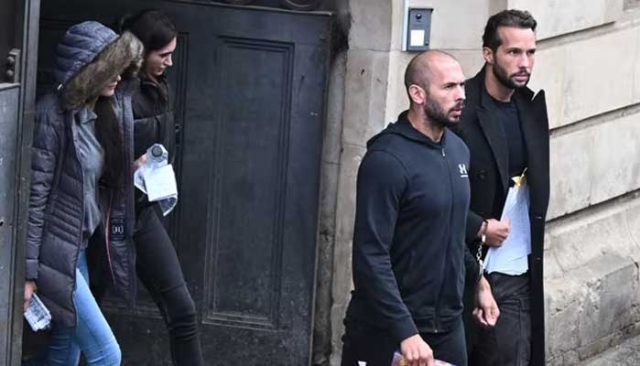 As the Tate brothers' story progressed, a lot of self-incriminating statements captured by videos are now being brought to the spotlight for analyzing Andrew and Tristan Tate's own words in relation to their online criminal activities and the charges of human trafficking and abuse, including charges of rape against Andrew.
Currently, the Tate brothers, along with two of their staff, are still being put under house arrest while facing formal charges at the court in Romania where several women are also filing complaints of sexual violence and civil claims to obtain damages from the defendants. The four have been charged for "forming a criminal group", which allegedly started in 2021, specifically organized to traffic women in Romania and other parts of Europe and the US for their financial gain while also physically abusing these victims using "intimidation and constant surveillance", forcefully make them perform sexual acts in front of a webcam for "only fan" users from different parts of the world to pay money and watch.
One lady from Romania claimed Tate tried to recruit her to work for his webcam business when she was 16 years old. In addition to that, VICE also reported about two women working for Tate's business in England who claimed they were abused by Tate in 2015.
Along with the confiscation of the Tate bothers' real estate properties and other assets, the prosecutors have also ordered the seizure of 15 luxury cars, watches, and cryptocurrency accounts which worth $3 million.
The victims, according to the charges, were lured by the Tate brothers "with false pretenses of love" and then later transport them to Romania, where the group grooms them into being a model of the Tate's webcam business and then later "sexually exploits them" along with using verbal abuse and physical violence. A local report read there were "six women" found at Tate's property during the raid. According to The Cut website:
"Just as his human-trafficking investigation was coming to a close, Tate was also served with a civil suit from the three U.K. women who'd accused him of abuse, plus a fourth alleged victim who says she was strangled until she was unconscious while having sex with Tate in 2014. The documents list an appalling slew of allegations including rape, strangulation, beating, and coercive and controlling behavior. According to the plaintiffs' legal representation, Tate could be heard from inside his Bucharest compound, where he was on house arrest, telling security to have the lawyers "fuck off." He has 14 days to respond to the suit."
The Tate brothers also use Tiktok for the promotion of their webcam business and to make more money from the girls who are uploading their videos. One of the workers, according to an "official, validated" conversation, has been threatened seriously for not making Tiktok videos to make money for the Tate bothers. The threat and intimidation, also considered verbal and psychological abuse, was perpetrated by Tate's two female workers, who are said to have been constantly "watching" the employees. As narrated by Apostate Prophet, the host of the source podcast:
"…that's what one of the women says to the model the other one says punch yourself in the mouth or punch yourself in the face until I arrive because then I'll give you another 10, you lazy bastard! I will break you when I get there…(I just want to say apparently all this is because she didn't release a Tiktok video the day before)…
…the model Espina says, "what did I do?" Georgiana says, "you have one hour and 10 minutes to disappear". And she says again, "what did I do?" And she says, "better said what I didn't do yesterday." For an hour, you are 20 down four days since you posted and I'm waiting for yesterday's money, uh, and then it says, "well, if Andrew looks to see if you've posted Tiktoks, he won't even have time to pack you're flying out of the balcony straight away!"
References: