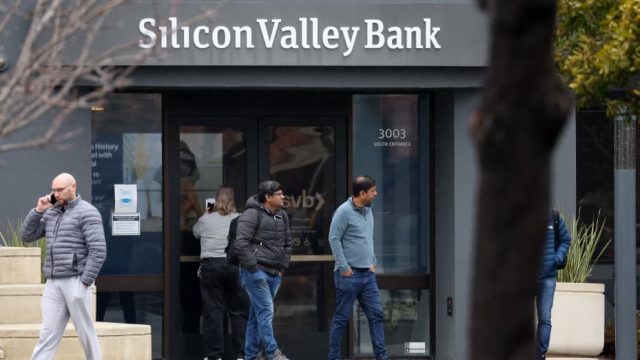 The California Department of Financial Protection and Innovation shut down the Silicon Valley Bank (SVB) on Friday after some serious problems occurred that led to its collapse. The current crisis of SVB is said to be the "second-largest failure" in the history of the United States banking system.
As SVB has been closed down, the US Federal Deposit Insurance Corporation (FDIC) is now taking over through the Deposit Insurance National Bank of Santa Clara (DINB), another agency supposedly created "to protect insured depositors". FDIC functions as a receiver. As of March 12, FDIC wrote on its website:
"At the time of closing, the FDIC as receiver immediately transferred to the DINB all insured deposits of Silicon Valley Bank."
FDIC is a federal government agency that acts as an independent entity that directs or guides financial institutions and ensures bank deposits. The agency will take responsibility such as selling the financial asset of a bankrupt company or paying uninsured depositors.
According to its website, all insured depositors "will have full access to their insured deposits" by no later than March 13, Monday morning and that, uninsured depositors will be paid an "advance dividend within the next week". As the FDIC statement continued:
"The main office and all branches of Silicon Valley Bank will reopen on Monday, March 13, 2023. The DINB will maintain Silicon Valley Bank's normal business hours.
Silicon Valley Bank's official checks will continue to clear. Under the Federal Deposit Insurance Act, the FDIC may create a DINB to ensure that customers have continued access to their insured funds."
Meanwhile, Deputy Treasury Secretary Wally Adeyemo reassured the public in an interview that the agency will efficiently take care of the financial system, amidst what happened to the SVB. Adeyemo also added that federal regulators are "paying attention" to what happened to SVB and that the agency is "very confident" in the resiliency of the financial system as a whole.
SVB was founded in 1983. It is known as one of the top 20 commercial banks in America, with $209 billion in total assets at the end of 2022. SVB helps startups with technology and health-related ventures. It has 17 branches in California and Massachusetts.
As promised by FDIC, uninsured depositors "will be given a certificate for the remaining amount of their uninsured funds" and "as the FDIC sells the assets of Silicon Valley Bank, future dividend payments may be made to uninsured depositors".
SVB is one of the many banks that have gone bankrupt. One of the reasons is that last year, Federal Reserve began raising interest rates that try to cope with inflation rates which drive higher costs of lending. As explained by CNN:
"Higher borrowing costs sapped the momentum of tech stocks that had benefited SVB and eroded the value of long-term bonds that SVB and other banks gobbled up during the era of ultra-low, near-zero interest rates. SVB's $21 billion bond portfolio was yielding an average of 1.79% — the current 10-year Treasury yield is about 3.9%.
At the same time, venture capital began drying up, forcing startups to draw down funds held by SVB. So the bank was sitting on a mountain of unrealized losses in bonds just as the pace of customer withdrawals was escalating."
Meanwhile, on Monday, Europe's biggest bank, HSBC, bought SVB UK. It is believed that HSBC's action will "secure the future of thousands of British tech firms".
References:
https://edition.cnn.com/2023/03/10/investing/svb-bank/index.html
https://www.fdic.gov/news/press-releases/2023/pr23016.html
https://edition.cnn.com/business/live-news/silicon-valley-bank-collapse-updates-03-13-23/h_032ef854980c1aeac8c265af8b9fe711
Featrured image: https://www.cnbc.com/2023/03/12/regulators-unveil-plan-to-stem-damage-from-svb-collapse.html