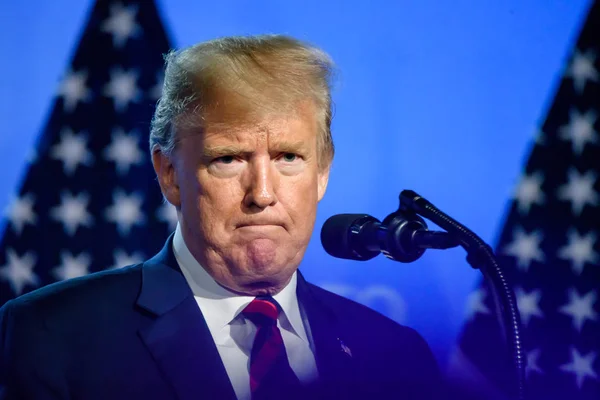 A rumor is now spreading around that the state and federal authorities are currently on alert after former president Donald J. Trump announced on Saturday on his platform "Truth Social" that an arrest order will be served to him in relation to the ongoing investigation into alleged hush money in connection to the 2016 election.
On Saturday morning, Trump posted, "THE FAR & AWAY LEADING REPUBLICAN CANDIDATE & FORMER PRESIDENT OF THE UNITED STATES OF AMERICA, WILL BE ARRESTED ON TUESDAY OF NEXT WEEK. PROTEST, TAKE OUR NATION BACK!"
According to sources, federal and state agencies will have a meeting on Monday, regarding the security and order once the indictment happens. The agencies, according to sources, will discuss the security plans for the Manhattan Criminal Court in case of Trump's arrest. This will include the closure of the Manhattan courthouse for vehicles and the deployment of security personnel in and around the building. The Manhattan district attorney's office, Alvin L. Bragg, however, has not confirmed that an indictment is looming.
Aside from the Manhattan district attorney's office, among the agencies that are said to monitor the situation, according to sources, are the FBI's Joint Terrorism Task Force, NYPD, the U.S. Secret Service, and New York State Court Officers. According to NYPD Chief Kevin Maloney:
"We'll handle it like we do anything else. It's lower Manhattan, there's always plenty of police presence down there, anyway. So we'll monitor the situation. We'll have ample resources. We'll see what Tuesday brings."
Trump's attorney, Joe Tacopina, however, told reporters that Trump "will follow normal procedures" upon surrendering to authorities in case an arrest will be ordered.
As Trump announced his arrest, he also wrote "ILLEGAL LEAKS FROM A CORRUPT & HIGHLY POLITICAL MANHATTAN DISTRICT ATTORNEY'S OFFICE". Trump also posted "THEY'RE KILLING OUR NATION AS WE SIT BACK & WATCH. WE MUST SAVE AMERICA!" while urging his supporters "PROTEST, PROTEST, PROTEST!!!."
Meanwhile, John Kirby, National Security Council spokesman, said in an interview with Fox News that there was "no immediate indication that there were violent protests planned by Trump supporters". Although the White House is still looking at the situation, Kirby told the reporter. He then stated:
"We're always monitoring the situation here as best we can and we obviously don't want to see any activity grow violent, certainly nothing to the extent that we saw during the storming of the US Capitol on January 6, but we're watching this closely. We want to see if there are protests of any kind about any issue or quite frankly, let alone this, that they're peaceful."
In 2018, Trump's former lawyer Michael Cohen pleaded guilty to violating federal campaign finance laws. He served three years in prison for the said crime which involves $130,000 hush money before the 2016 election. Attorney Bragg, on the other hand, wrote in an email on Saturday that his office "will not be intimidated by Trump's call for protests". He then added:
"Our law enforcement partners will ensure that any specific or credible threats against the office will be fully investigated and that the proper safeguards are in place so all 1,600 of us have a secure work environment.
In the meantime, as with all of our investigations, we will continue to apply the law evenly and fairly and speak openly only when appropriate. We do not tolerate attempts to intimidate our office or threaten the rule of law in New York."
References: