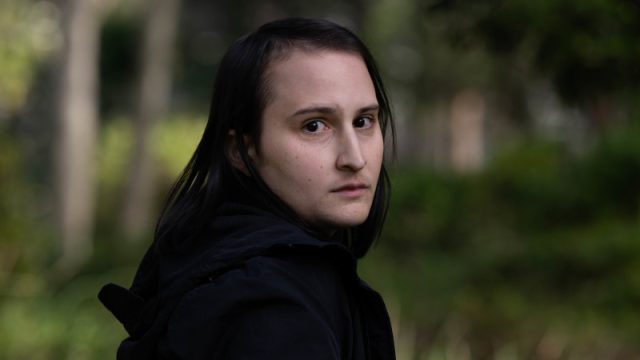 A psychiatrist named Dr. Patrick Toohey is being sued by Jay Langadinos for professional negligence for administering her masculinizing drugs in May 2010, when she was experiencing gender dysphoria and mistakenly identifying as male.
On their first meeting, Toohey identified Langadinos as having gender dysphoria and determined that she was a good candidate for testosterone hormone therapy, which promotes the development of secondary male sexual traits. And at their second meeting in February 2012, Toohey gave Langadinos the "go signal" for a double mastectomy, which she had in April and involved the removal of both of her healthy breasts. And later, at their third consultation in May, Toohey gave him approval for a hysterectomy, saying there was no psychiatric contraindication to continue with hysterectomy as part of gender change.
In November of the same year, Langadinos, then 22, had her womb surgically removed. Despite her idea that hormones and procedures would make her happy, Langadinos discovered that she felt more miserable after each procedure. However, Langadinos sought additional psychiatric care after realizing that the gender transition was just making her mental health worse. While being treated by Dr. Robert D'Angelo in November 2016, she came to the conclusion that the hormones and operations had been a mistake. She entirely stopped taking hormones in 2020. Toohey, she claims, failed to take the precautions to ensure that the "loss of her breasts, uterus, fallopian tubes, and ovaries" would not harm her irreparably as she now believes.
Earlier this month, it was reported that up to 1,000 families planned to file a lawsuit against Tavistock gender clinic over claims that the "affirmative" model led to thousands of kids being given hormones, puberty blockers, and surgeries without fully understanding what they were signing off on or being aware of the irreversible harm they were causing. For years, legal analysts and journalists have predicted a surge in medical malpractice claims; many have questioned if the Tavistock class-action case is a sign of things to come.
According to Langadinos, when she was a teenager, she experienced gender dysphoria and realized she had it after developing feelings for girls at school. She thought gender transition would make her feel better but each surgery and therapy after that only made her feel worse, causing disabilities like early menopause, anxiety, and incompetence. Jay claims that the decision was made despite the fact that he acknowledged she had social anxiety and that he was unaware that psychological issues could influence the outcome of gender "transition". Dr. Toohey strongly' advised Ms. Langadinos to receive social and family therapy, but neither was provided. In spite of this, the physician later authorized operations to remove her womb and breasts as part of the transition.
She also claims that before beginning hormone therapy, her social anxiety should have been treated and that she wasn't informed about how the transition would affect her fertility. The surgeries, according to Ms. Langadinos, have left her with "injuries and limitations." Additionally, she identified a number of problems that had arisen as a result of the neglect. She lost her breasts, uterus, and ovaries, and hormone therapy caused her to become more masculine. She also mentioned anxiety, depression, and early menopause as side effects of hormone therapy. And lastly, according to Ms. Langadinos, the move has reduced her ability to work and damaged her psychological functioning.
References:
https://www.timesnownews.com/viral/australian-woman-sues-psychiatrist-who-approved-gender-transition-article-93812666
https://www.smh.com.au/national/absolutely-devastating-woman-sues-psychiatrist-over-gender-transition-20220823-p5bbyr.html
Feaetured image: https://tech.dailyfeedmail.net/jay-langadinos-sues-psychiatrist-for-professional-negligence/