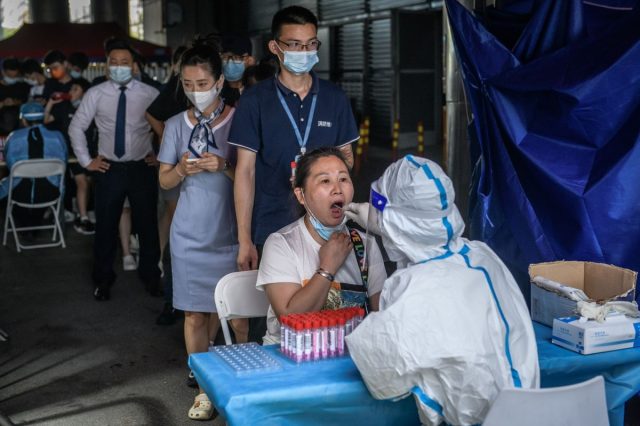 On the news a week ago, it was announced that Beijing withdrew its vaccine mandate less than 48 hours after it was officially declared which requires residents to present their proof of vaccination upon entering shopping malls, cinemas, public markets, entertainment centers, government offices, and many other establishments. In addition, the vaccine mandate, which is supposed to take effect on July 11, also requires workers to get booster shots and aims to increase the vaccination rate among the elderly.
According to mainstream sources, this is in response to the public's criticism and refusal of the said vaccine bill. This seems like a good news for many Beijing residents who do not want or cannot take the jab. However, despite the pushback, they still need to have their temperature checked and to provide a negative COVID test result that does not exceed 72 hours as China's communist government still sticks to its obsolete "Zero COVID policy".
Meanwhile, in Shanghai, a strict lockdown is still being enforced despite its ruthless economic impact which also affected the global economy, including the United States and Europe; leading to shortages and recession. As reported by Reuters last week:
"This week, Shanghai's 25 million people were subject to more mandatory city-wide testing, and fear of tougher measures or getting caught up in China's zero-COVID bureaucracy continues to exact an economic toll, including on consumption and jobs.
Nomura estimated 31 cities were implementing full or partial lockdowns as of July 11, affecting nearly 250 million people in regions accounting for a quarter of China's GDP."
Bloomberg reported that almost 90% of China's population (1.4 billion) are now fully vaccinated. If this is true, this might be the result of China's totalitarian Zero COVID policy which subjected its various cities to more than 2 months of hard lockdown; restricting residents from doing even the most essential things they have to do such as getting food and water and requiring millions of Chinese people to undergo frequent testing and quarantine despite many people already knew that they are useless.
While some Chinese people believe that these bad situations will persist until 2023, especially those who knew about the globalist elite's plan for total economic and financial control through what they call "The Great Reset" and "Agenda 2030", some were also left in wonder as to why their government has backed down on its vaccine mandate. It is unusual for a communist government to listen to its people therefore it means that by the reversal, the government recognizes its wrong policies with regard to vaccination. As the former editor-in-chief of Global Times stated:
"The Chinese society is dominated by government. They timely backed up in the face of a public pushback. That means they accept the public's view of the vaccine mandate as illegal."
Even if this is really what the Beijing government has done, reports and video clips of deaths and injuries from COVID vaccine still come out every now and then on the internet. Platforms such as Bitchute (links below) have many uploads showing people in China dying on the streets (SADS – sudden adult death syndrome) days or weeks or months after getting the injection. Another video also shows hundreds of Chinese people falling in line while they're being handcuffed and watched over by the police. The title says it's a line for forced vaccination. Because of this, one can ask if the Chinese government really cares for its people and if they are really willing to listen to and respect human rights with regard to vaccination.
References:
https://www.reuters.com/world/china/china-makes-tweaks-tough-covid-policy-still-drags-economy-2022-07-14/
https://www.bloomberg.com/news/articles/2022-07-08/beijing-revokes-first-ever-vaccine-mandate-after-public-outcry
https://www.bloomberg.com/news/articles/2022-07-06/beijing-rolls-out-china-s-first-ever-covid-vaccine-mandate
https://www.bitchute.com/video/z4kw02fh7OWM/
Featured image: Bloomberg.com