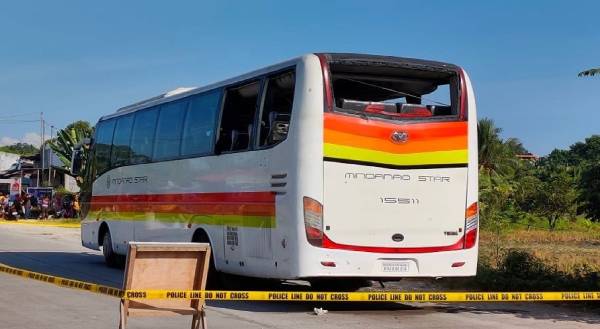 A five-year-old boy died while six others were injured after an improvised explosive device exploded on a passenger bus in Aleosan town, Tuesday morning, January 11.
Police identified the deceased as Benjamin Solaiman, a resident of Datu Odin Sinsuat, Maguindanao.
The injured victims were identified as Haron Solaiman Jr., 5 months old and Yushra Solaiman 3, both brothers of Benjamin, Rodolfo R. Castillo, 67, of Toril Davao City; Lester Alkane Bautista, 17, and resident of Poblacion, Pikit, Cotabato, Haron Solaiman Sr., 24, and resident of Kidapawan City and Masid Benjamin, 25, and resident of Datu Odin Sinsuat, Maguindanao.
P/Captain Arvin John Cambang, chief of Aleosan Police, said the passenger bus owned by Mindanao Star Inc. was speeding. the national highway in Barangay San Mateo, Aleosan to Cotabato City from Davao City when a bomb exploded inside a piece of luggage past 8 a.m. on Tuesday.
Witnesses told police the unidentified suspect boarded a bus in Pikit town and left his luggage after he got off the bus at Aleosan National High School.
Cambang said investigators are already gathering evidence including CCTV footage of the bus to determine the identity of the suspect.
Condemned by PB/Gen. Alexander Tagum, police regional director, the terror attack that victimized not only innocent civilians but including minors.