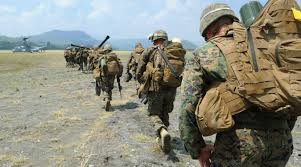 MANILA — Armed Forces of the Philippines (AFP) Chief-of-Staff Gen. Carlito Galvez on Friday called the just-concluded "Balikatan" exercises between Filipino and American military personnel a success.
"With the evident success of the annual exercise, I speak for the entire AFP in expressing our profoundest appreciation for everyone's active involvement in this shoulder-to-shoulder commitment," Galvez said during the closing ceremony of the two-week military exercise, held at the AFP Commissioned Officers' Club in Camp Aguinaldo, Quezon City.
He noted that this year's activities concluded with no accident, mishap or any untoward incident.
"This may be considered as one of the best since we have practiced the concise nature of the CPX (command post exercise) and the activities integrating our insights with our counterparts," the AFP chief said.
"I'm very pleased to note that all objectives set were achieved as planned. The execution phase was carried out smoothly and methodically, leading to the seamless conduct of the following activities — the staff and command post exercise, the joint and combined interoperability events, the humanitarian civic assistance events, communication electronics events, the live-fire exercise," he added.
Some 5,000 Filipino and 3,000 American soldiers participated in this year's "Balikatan" activities that began mid-April.
Troops from the Australian Defence Force and Japan Self-Defense Forces also joined some of the exercises. Their participation was under the ambit of the US alliance system. (PNA)
By Priam Nepomuceno
[zombify_post]