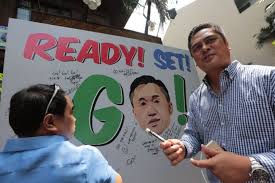 MANILA — Supporters of President Rodrigo Duterte in Japan are urging his top aide, Christopher "Bong" Go to run for senator in next year's midterm elections.
Members of the Duterte Amazing Ninjas Amore Hachinohe Chapter gathered at the Kodomo No Kuni Park at the eastern side of Japan on Sunday urging the president's closest assistant to run for the Senate in the 2019 polls, saying he could help the president with his legislative agenda.
The event was organized by Rhoda Fe Aurellano, president of the movement supporting Go's senatorial bid, alongside the group's vice president, Mhar Litz, and its executive director, Josephine Samson Kobayashi.
The group, which was founded by Yuko Takei, was also joined by Andre Natabio, convenor of the SAP Bong Go for Senator Movement, an online support group of the chief executive's top aide.
In an overseas trip last April, Go has been urged by no less than his boss, President Duterte, to run for senator in front of the Filipino community in Hong Kong.
Duterte called Go his "favorite senator," which drew the loudest applause, boosting the clamor for him to run as one of the administration's senatorial bets in the 2019 midterm elections.
The president said Go enjoys the support of all sectors, including the military and police.
Government officials, including lawmakers and Cabinet secreatries, had gathered in March to launch the #ReadySetGO movement, which aims to urge Go to run for senator.
His bid is primarily being endorsed by his close friend, Presidential Communications Operations Office Secretary Martin Andanar, principal convenor of the #ReadySetGO movement. (PNA)
[zombify_post]