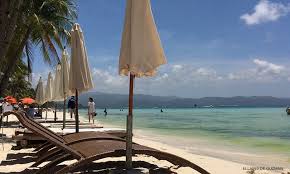 MANILA — A total of 195 establishments in Boracay Island have received notices of violation from the Department of Environment and Natural Resources (DENR) for not having sewer line connections.
Environment Secretary Roy Cimatu said the DENR's Environmental Management Bureau had handed the notices of violations to the erring firms.
"Desiltation and rehabilitation of all drainage lines being undertaken by the Provincial Engineering Office are almost complete," Cimatu announced in his Boracay clean-up and rehabilitation update released Friday.
He added a wastewater discharge pipeline has been rechanneled to the sewerage treatment plant of the Boracay Island Water Company (BIWC), so that effluents can first be treated before being discharged into the sea.
"As for the blue pipeline wastewater discharge, this will be diverted to Tieza pumping station, which will be rechanneled to BIWC Balabag and Manoc-manoc sewerage treatment plant, where it will be treated before its discharge into the sea," he explained.
Cimatu is heading the inter-agency task force created by President Rodrigo Duterte to reverse environmental degradation in Boracay Island.
The government has closed Boracay Island to tourists to avert further environmental degradation and do some cleaning up in the area.
Water pollution, accumulation of solid waste, and encroachment of structures on wetlands, easement areas, and forest land are among the environmental problems bugging the world-famous Philippine island resort. (PNA)
By Catherine Teves
[zombify_post]