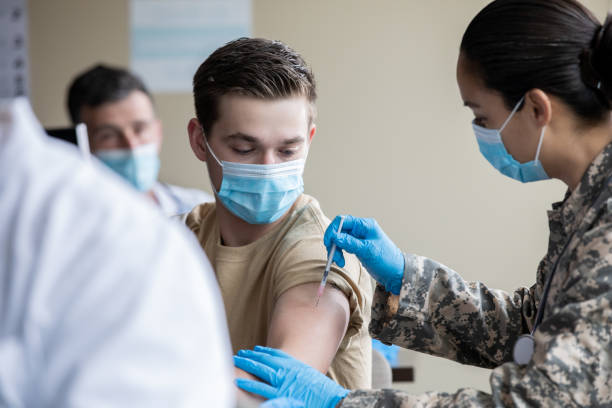 Last week, the US Food and Drug Administration (FDA) approved another vaccine for anthrax named Cyfendus. Cyfendus is manufactured by a company called Emergent Biosolutions, the same company that made Biothrax, also known as Anthrax Vaccine Absorbed (AVA), a vaccine being marketed for military personnel since the late 1990s. According to Emergent, FDA's approval of Cyfendus' is based on the series of studies conducted by the company itself, which is also "supported" by the US government.  
Cyfendus was approved for "pre-emergency use authorization" by the FDA in 2018 and in 2019, the US Department of Health and Human Services (HHS) started using it for "national preparedness efforts". According to the FDA, Cyfendus is comprised of AVA and additional adjuvants, aluminum adjuvants and a new synthetic adjuvant called CPG7909. By adding these adjuvants, the company claimed, allegedly "elicit protective levels of immune response". 
Aside from those materials mentioned above, Cyfendus also contains formaldehyde as a saline solution and preservatives in the form of benzethonium chloride. To use this vaccine, it must be administered together with antibacterial drugs. This must be given "after suspected or confirmed exposure" to the so-called Bacillus anthracis or anthrax. This idea of administration of Cyfendus is problematic according to Dr. Meryl Nass, an expert of bioterrorism and anthrax. In her statement, Dr. Meryl Nass said:
"You can't be sprayed with anthrax and then get vaccinated and then patiently wait a month to develop immunity. You'd be dead by then…"
All of these adjuvants being used for the new anthrax vaccine have been documented in many different studies to cause many serious health problems which oftentimes lead to disablement and even death. As recently reported by Children's Health Defense:
"Aluminum adjuvant is a known cytotoxic and neurotoxic substance used to induce autoimmunity in lab animals. Peer-reviewed research published in Neuromolecular Medicine linked the aluminum adjuvant in the existing anthrax vaccine to Gulf War Illness (GWI), a cluster of symptoms including muscle aches, joint pain, dizziness, memory lapses, headaches, fatigue, insomnia, emotional disorders, posttraumatic stress reactions, headaches, and memory loss.
According to the BMJ, aluminum adjuvants are associated with numerous adverse effects, including injection site pain and tenderness, persistent lumps, granulomas, contact dermatitis, post-immunization headache, macrophagic myofasciitis and autoimmune/inflammatory syndromes. Research has also found a strong link between aluminum exposure and asthma, Alzheimer's disease and autism. Formaldehyde is a known carcinogen and benzethonium chloride, an ammonium compound often found in detergents, is highly toxic if ingested."
The U.S. Department of Defense (DOD) made the anthrax vaccine mandatory to all military servicemen in 1997, as part of the "Anthrax Vaccine Immunization Program (AVIP) for all 2.5 million military service members". These recipients include "active duty and reserve personnel and civilian contractors". Since then, there have been reports of adverse reactions following the vaccination, occurring as mild, serious, or fatal. Because of this, many military members opposed the policy which led to court hearings and eventually, the lifting of the compulsory policy in early 2000 by the U.S. House of Representatives Committee on Government Reform.
According to a 2008 "RAC-GWVI" government report, 35,000 soldiers have died from the anthrax vaccine. There have been 600,000 military members, male and female, who received the vaccine. Research found that many of the military recipients have died and additional reports claimed that thousands more have been injured.
Some of these reports were confirmed in 2016 when a former military medic named Sherrie Saunders was interviewed by Vaxxed.com, exposing the reality behind anthrax vaccination in the US military. During her time of duty as one of the persons who administer the vaccines to soldiers, she claims she has no idea that she was injecting very dangerous vaccines to her fellow servicemen until reports of adverse events, including paralysis and deaths, started surfacing. After she realized that it was the vaccines that is causing the illness, she started speaking against it.
The illness was named the Gulf War Syndrome in which the military officials falsely claimed it is a disease caused by trauma and emotional distress from the Gulf War. Worst, soldiers who refused to take the vaccine were either illegally discharged, ordered to pay fines, or imprisoned. All of these was also revealed in a documentary film entitled "Vaccine Syndrome", produced by Scott Miller, an Oscar nominated filmmaker. The film can be watched here:
To watch Sherrie Saunders' full interview, click this link:
More references:
https://investors.emergentbiosolutions.com/news-releases/news-release-details/emergent-biosolutions-receives-us-fda-approval-cyfendustm