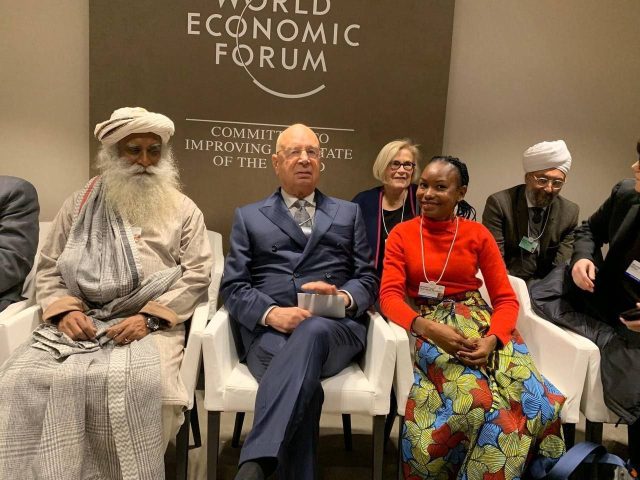 Four months ago, a YouTube channel named "Warriors Amongst Men" published a video exposing Sadhguru or Jagadish Vasudev, an internationally known religious leader and the founder and head of the Isha Foundation in India, as a promoter of the globalist elite's depopulation through vaccination agenda. At the beginning of the video clip, Sadhguru was talking about the importance of controlling or lessening the human population for other species to live and for earth to "flourish". According to him:
"It is much easier to control human population than human aspirations. You cannot control human aspirations. You can easily control human population if everybody is focused on that. The nations, the religions of the world, various community leaders, everybody, if they are focused on seeing how to bring down the population of this planet, human population, so that other populations can live.
…if you and me disappear, this planet will flourish."
As the video continues, it also shows Sadhguru urging the people to get vaccinated, claiming that it is important for everybody to get the jab. He also added that the distrust on vaccines are nonsense and that people who are against vaccination should live in the Himalayan peak so that they will not be in touch with other people because they are "putting others at risk". Sadhguru continued:
"This time, it is very important that everybody gets vaccinated. We need to understand, health is not an absolute thing. Health is something that we achieve incrementally. So, the same thing goes for vaccination. Right now, vaccination is a must for everybody!
Nobody should evolve philosophies of anti-vax, this is just rubbish! Right now, putting everybody's life to risk… well if you want to be anti-vax go on live in the Himalayan peak where you are not in touch with any human being. It's fine but if you're living in a city, town or a community, you must take vaccination right now!"
Meanwhile, at the Bengaluru Tech Summit-2020, Sadhguru claimed that vaccines "have brought power and wellbeing to people's lives" and that it is the reason why most people still exist without providing valid explanation and justification for this statement. However, following this statement, the rich and famous leader then said that he would be the last person to get the jab. According to him:
"If you ask me about vaccines, I would be the last person to get vaccinated for any pandemic including Covid-19. For me top priority should be given to high-risk groups like police personnel, doctors, and marginalised workers among others. They should get the vaccine first to arrest the pandemic in India…"
Back in December of 2019, Sadhguru also had a live discussion with Dr. Soumya Swaminathan, an Indian pediatrician who is also a chief scientist at the World Health Organization (WHO). On this discussion, Sadhguru said that parents who don't vaccinate their children are "fools" and that the people who are against vaccinating their children are just people who are "tired of wellbeing" who just "want some trouble". According to Sadhguru:
"Human beings get tired of well-being; they want some trouble. They like trouble, you know. They like it really.
Too much order creates a certain kind of irritation in the human being. He wants a little chaos. They must visit India.
So, this campaign is gaining momentum in… particularly in California, big time! A whole lot of parents coming to me and asking this, I'm telling them, "Don't be a fool." Because when you find your child is either crippled with polio or something else…"
Last month, MedAlerts.org published the report from National Vaccine Information Center's (NVIC) May 26 report through its Vaccine Adverse Events Reporting System (VAERS). On it, it was shown that there were 32,052 deaths following COVID shots in the Last 2 Years since its roll out. And in February, Florida's Surgeon General Joseph Ladapo has issued a "Health Alert on mRNA COVID-19 Vaccine Safety" based on the Government's own statistics in VAERS.
In January of 2022, Sadhguru was also featured in the World Economic Forum (WEF) platform, still promoting the idea of fake climate crisis and the elite's "solution".
References:
https://www.youtube.com/watch?v=f-W0WAWqxoY
https://www.businessinsider.in/india/news/covid-vaccine-be-given-first-to-vulnerable-sections-sadhguru/articleshow/79342257.cms
https://medalerts.org/vaersdb/findfield.php?TABLE=ON&GROUP1=VMAN&TSORT=down&EVENTS=ON&PERPAGE=1500&ESORT=AGE&DIED=Yes&VAX_YEAR_LOW=1990&VAX_MONTH_LOW=01
https://www.weforum.org/agenda/2022/01/yogi-sadghuru-reflects-on-depleting-resources-in-a-future-world/
https://www.floridahealth.gov/newsroom/2023/02/20230215-updated-health-alert.pr.html
Featured image: https://simonmercieca.com/2023/04/18/sadhguru-another-pseudo-guru-who-advocated-for-the-deadly-covid-19-vaccines-and-also-made-his-appearance-at-the-world-economic-forum/