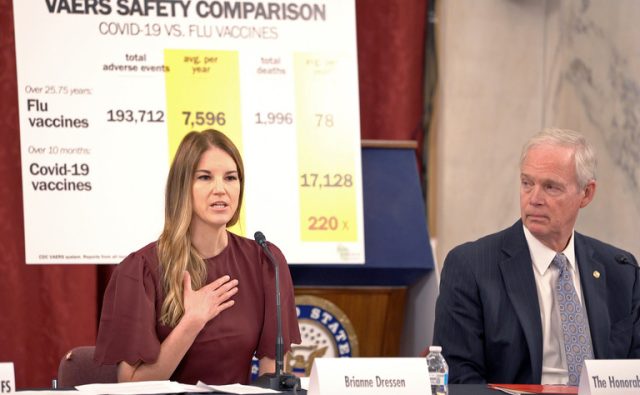 President Joe Biden and top officials of his administration, the Centers for Disease Control and Prevention (CDC), and the U.S. Department of Homeland Security is being sued for vaccine injury and conspiracy to censor information regarding COVID vaccine.
The five plaintiffs Brianne Dressen, Nikki Holland, Kristi Dobbs, Ernest Ramirez, and Suzanna Newell alleged in the lawsuit that the Biden administration, along with US top officials from health and other agencies, have conspired with social media companies for censoring their stories detailing personal experiences of injury from the jabs. They filed a lawsuit with the help of the New Civil Liberties Alliance (NCLA), a nonpartisan, nonprofit civil rights group.
Brianne Dressen, a preschool teacher from Saratoga Springs, Utah who is also a co-chairman of REACT19, a science-based non-profit offering financial, physical, and emotional support for those suffering from long-term Covid-19 vaccine adverse events globally. Dressen suffered severe nerve damage from AstraZeneca's COVID vaccine which include abnormal blood and heart pressure, blurry vision, oversensitivity to lights and sounds, and intense brain fog. Some of these disturbing conditions, according to Dressen, have worsened over time.
Ernest Ramirez, who received the Moderna mRNA shot, luckily did not experience adverse reaction from the vaccine. However, his 16-year-old son died from cardiac arrest five days after having the Pfizer jab. Last month, The Defender reported that the company gave millions of dollars to various groups, including civil rights organizations, grassroots community activists, and media influencers, in 2021 to promote the vaccine mandates amongst the wider public.
Dressen and others claimed they experience intense censorship from social media platforms such as Facebook, TikTok, YouTube, Reddit, GoFundMe, Reddit and Instagram every time they post details about their adverse reactions to vaccines. These platforms, according to them, remove their posts especially when these are about COVID vaccine-related injuries. Describing her experiences in 2021, Dressen told ABC4.com:
"The hospital didn't know what was going on … none of the neurologists that I saw knew what was going on. I called the test clinic several times and they had no idea what was going on."
Stressing about the importance of freedom of information and informed consent, Dressen added:
"I want the CDC to do the right thing and communicate with the medical community so these people can get help. I want the public to be able to have the full picture so they can make an informed decision."
References:
https://www.abc4.com/news/local-news/woman-suffers-life-altering-injuries-after-covid-vaccine-teams-up-with-utah-senator-to-demand-answers/
Featured image: https://foxillinois.com/news/coronavirus/gallery/we-do-exist-some-americans-suffer-life-changing-covid-vaccine-injuries?photo=1