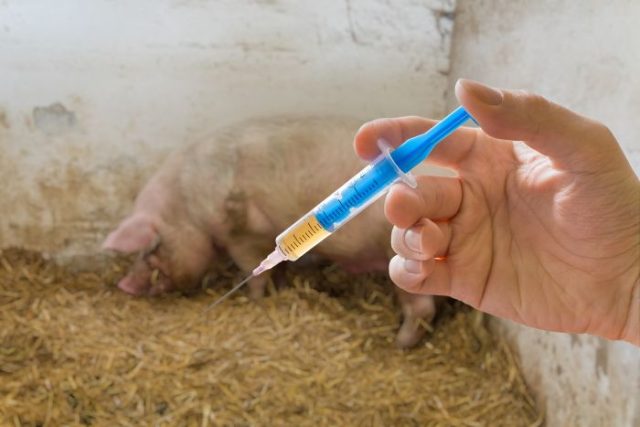 Not known to many consumers, pork producers have been using vaccines on their herds based on mRNA technology since 2018. The vaccine is called Sequivity, a custom swine vaccine platform. The plan for full approval of this mRNA swine vaccine will be, according to Tom Renz, an American lawyer, this month. As Renz stated on his Twitter account:
"BREAKING NEWS: the lobbyists for the cattleman and pork associations in several states have CONFIRMED they WILL be using mRNA vaccines in pigs and cows THIS MONTH. WE MUST SUPPORT #Missouri #HB1169. It is LITERALLY the ONLY chance we have to prevent this… NO ONE knows the impacts of doing this but we are all potentially facing the risk of being a #DiedSuddenly if we don't stop this…"
According to the companies' own statement, this vaccine has been developed for three years through a partnership by Merck and Moderna. Moderna worked to design and synthesized the product while Merck worked on the discovery and the development by spending $50 million on the licenses for technology owned by Moderna. As reported by Genetic Engineering and Biotechnology News back in 2015:
"The platform builds on the discovery that modified mRNA can direct the body's cellular machinery to produce nearly any protein of interest—ranging from native proteins to antibodies and other entirely novel protein constructs with therapeutic activity inside and outside of cells."
According to Merck Animal Health website, Sequivity only targets swine pathogen gene sequences of interest. It doesn't replicate or cause disease. This vaccine binds RNA particle technology to, allegedly, target influenza A strains in swine, porcine circovirus (PCV), rotavirus, and beyond.
Sequivity, still according to Merck, "targets existing and evolving swine pathogens, including diseases not covered by conventional swine vaccines. Allows for the creation of multivalent formulations by blending RNA particles to target multiple swine pathogens in one shot."
To counter the Big Agri and Big Pharma's dangerous and deceptive move, Tom Renz and other activists focusing on food and agriculture proposed Missouri House Bill 1169. As asserted by its authors, the bill would require the labeling of products that can have an effect or that can alter our genes while also asserting that informed consent should be given for "all vaccines, gene therapies, and medical interventions by requiring companies to fully provide information regarding the "potential transmissibility of gene-altering interventions".
Talking about how the proponents of this technology is making an effort to stop the bill from being implemented, the Children's Health Defense (CHD), an organization that also helps to end Big Pharma and Big Agri's authoritarian and destructive monopoly on food supply, stated on its website:
"The pushback by industry against this bill has been enormous, which should tell you something. It doesn't ban anything; it only requires transparency. That, apparently, is a serious threat to industry, and the most obvious reason for that is because they'd have to admit that all sorts of foods can have gene-altering effects.
Not only might this destroy Big Ag, but it would also decimate any surreptitious attempts by Big Pharma to use the food supply as a tool to distribute vaccines unbeknownst to consumers."
References:
https://www.merck-animal-health-usa.com/species/swine/sequivity
https://mobile.twitter.com/RenzTom/status/1642229969555259395
Featured image: https://www.feedstrategy.com/pig-health-disease/virginia-tech-to-test-new-vaccine-technology-against-pedv/