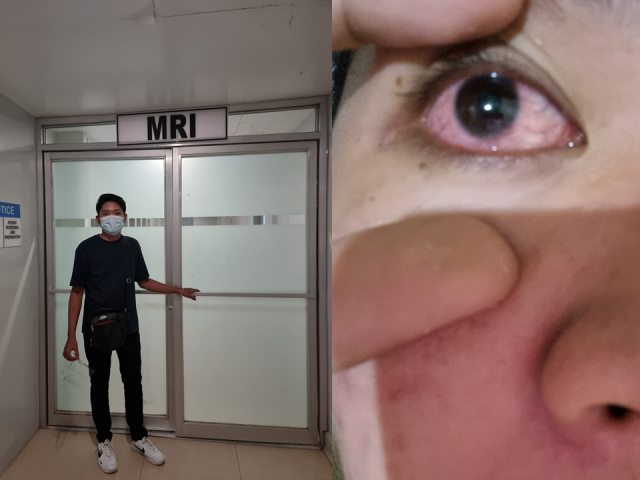 Two Filipino netizens posted personal health information claiming that they experienced serious adverse reactions from COVID vaccines, particularly from the AstraZeneca and Moderna vaccines. Apparently, the two citizens posted their stories in public out of concern and with the intention of raising awareness about what could be the possible outcome of taking the jabs. One of these two courageous individuals is Jhon Kevin Arado, an ordinary citizen who called out on the negligence of our health authorities, especially the Department of Health (DOH), and warned the public against the very real adverse reactions which, as more and more people nowadays claim, a large amount of population in the country is also experiencing.
In his Facebook post just a few days ago, John Arado, who took AstraZeneca's vaccine, explained the experiences he had after the injection:
"My first shot was on June 9, 2021. Headache, fever, chills, foot numbness, muscular aches at the injection site, low energy, and these side effects linger for two to three days. Then, on August 20, 2021, I had a second shot with a serious adverse effect (SAE). I experienced recurrent headaches two weeks after receiving the second dose of the AstraZeneca Covid vaccine. A week later, I experienced blurred vision in my left eye, which led me to consult with ophthalmologist Dr. Peter Brian F. Bautista. He made the diagnosis of Central Retinal Vein Occlusion (CRVO), Macular Edema Retinal Vasculitis, and a Covid-19 Vaccine Drug Adverse Reaction, and I was treated accordingly."
Arado also went on to continue that on the 30th of May 2022, after months of waiting, the Philippine Health Insurance Corporation (PHIC) has finally sent him a letter that contains the formal recommendation from NAEFIC's and the findings of its Causality Assessment. The texts read as:
"The result is B1; Indeterminate, temporal relationship but there is insufficient definitive evidence for vaccine causing event. A negative result for the hypercoagulability state work may strongly suggest the CRVO as a vaccine-related event, they added.
I therefore made the decision to see Dr. Ma Millfordeliza B. Gonzaga an Adult Hematologist for a hypercoagulability workup. St. Luke's Medical Center, Blood Works, and Lab ng Bayan Davao City received my blood sample.
It cannot be established that he has an underlying inherent risk factor for developing thrombosis, according to her statement. It indicates that the adverse reaction was brought on by the AstraZeneca covid vaccination. The Official Causality Assessment made it abundantly evident that the CRVO was most definitely a vaccine-related event if negative hypercoagulability test results were present.
Additionally, Godofreda R. Vergeire-Dalmacion, MD, MSc (Pharmacoepidemiology), MHPEd, FPOGS, FPSECP completed a Causality Assessment (Refer to the attached picture below)
Rico Paolo Gomez Tee, M.D., FPCP, DPSHBT, DPCHTM has also signed a medical certificate that reads, in part: "It is my opinion that indeed, patient does not have a hereditary thrombophilia. (Identical to Dr. Gonzaga.)"
Mr. Arado's claim cannot be ignored and should be a major headline in the media. In fact, his is the first case of serious adverse reactions from COVID injection that the Filipino doctors and experts have formally recognized but unfortunately, no one talks about it, especially in the major media platforms. And worst, no one is taking responsibility to go after the rampant corruption and coercion now being done by these government agencies, being used to enforce oppressive restrictions under the guise of "public health and safety". For more than 2 years, these agencies are still up, doing their job of pushing Filipinos further into the cliff while trying to deny the fact that their eyes are seeing the people fall and die. As Mr. Arado says it:
"I belong to a different organization, and nobody has come forward to say they were compensated by PhilHealth and paid damages by the Department of Health. I implore the concerned agencies to act and fulfill their duties."
In August 25, 2022, The Manila Times reported that it was revealed through the Philippine FDA's (Food and Drug Administration) own data that "there were 2,573 deaths related to Covid-19 vaccination from March 2021 to July 2022, with 12 of the fatalities children 5 to 11 years old". And as expected by many, the FDA, backed by the DOH, denied that there is a direct connection between these fatalities and COVID jabs. Instead, they blame the person's so-called "pre-existing medical conditions" as the cause for these deaths without even providing evidence for these shameless claims.
Meanwhile, another person who also bravely stood up for the public to be aware is a Facebook user named Aia Cruz. As she has revealed in her post last May 2022:
"These past months were a challenge. I was terribly sick and they (doctors) cannot give a definite diagnosis… The night after my Moderna shot, I had a fever and a terrible stomach ache. Because of the pain, I didn't feel the fever that much. After a few days, I consulted a doctor and the doctor said it's Gastritis. It continues to hurt until I cannot eat well anymore because my bowel movement has gotten worst.
Then 20 days later, I had Jaundice. I got tested for Viral Hepatitis A, B, C (B-core), Thyroid, ANA (autoimmune), had an abdominal ultrasound. All results were negative, ultrasound was fine. But the trend of liver function has gotten worst and it might result to liver failure. And because it's been over a month already, all obvious causes were ruled out and my situation has gotten worst, I had to get admitted."
Another concerning part of this is that once people get hospitalized, they are confronted with very expensive bills from, sometimes, unnecessary testing and other drug expenses that could, of course, easily drain their health insurance. And with the fact that most of these conventional allopathic "experts" will never (seemingly) admit that it is the adverse reaction from the jab usually because of conflict of interest, that their manufacturers are reminding them to warn the patients/people against anyway, how can these bedazzled experts know the real cause and recommend the right medication? As the lady continues to explain the final diagnosis in her post:
"The doctor suggested biopsy, since this is the last step of the diagnostics. So instead of continuing the blood test, which are very expensive anyway, he said they can proceed directly to liver biopsy (which is also way very expensive)…"
Final diagnosis is: "Cholestatic Hepatitis with Zone Two Liver Damage, Favor Drug Induced Liver Injury in Repair". My doctor was honest enough to say that they are now looking at my booster shot as the cause since it fits the timeline, I am advised not to get a 4th dose of Moderna/Pfizer (since they have the same components).
Finally, just like Mr. Arado, Ms. Cruz is also reaching out to the public and to the government for the people, children, and adults, who got adverse reactions from the COVID jabs:
"Please understand that I'm just sharing my experience and I am NOT discouraging anyone about vaccines. I just hope that the government and the manufacturers will help and support those who got the adverse reactions/side effects of the vaccines since it seems like mandatory and our healthcare is kind of expensive."
References:
https://www.facebook.com/aia.cruz
https://www.facebook.com/jhonkevinarado
https://www.manilatimes.net/2022/08/25/news/national/fda-report-bares-2573-jab-related-deaths/1855901