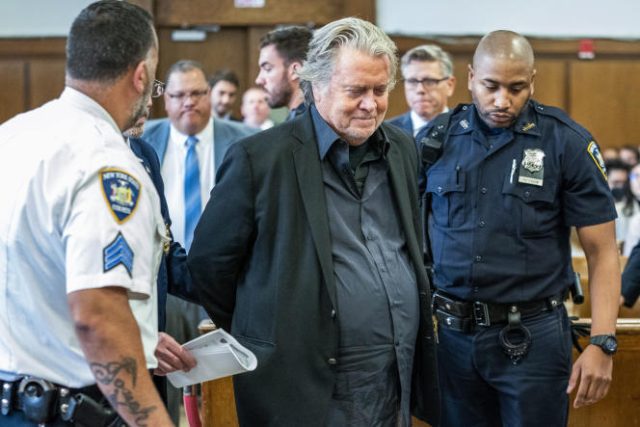 In an interview with Turning Point USA's founder Charlie Kirk on Real America's Voice on Friday, Steve Bannon, a former top Trump strategist claimed that "35 senior members, MAGA Republicans, and supporters of Donald Trump" had their residences raided by FBI. Bannon stated that the FBI of the Biden administration raided the residences of dozens of Donald Trump supporters. This claim coincides with Biden's increasingly combative rhetoric in which he describes "MAGA Republicans" as "threats" to the "foundations" of the nation.
Liberty Center founder Harmeet Dhillon responded to Bannon's shocking claim on Friday by writing that "this happened to many Trump allies I know as well." In a Friday night interview with Fox News anchor Tucker Carlson, Dhillon provided more detail, confirming that up to 50 search warrants or subpoenas had been issued for Trump supporters. The subpoenas, in Dhillon's words, were "very broad" and asked for all contacts between one month before and two months after the 2020 election.
The alleged raids occur only a few weeks after the FBI carried out its ground-breaking search of Trump's Mar-a-Lago residence in Palm Beach, Florida, early last month. The report also comes in the wake of the Biden administration's more aggressive rhetoric toward so-called "MAGA Republicans."
After being convicted guilty on two counts of contempt of Congress by a federal court in July, Bannon is currently engaged in a legal struggle. After Bannon ignored a subpoena issued by the Democratic-led House committee looking into the events on January 6, a verdict was reached.
Despite entering a not guilty plea, Bannon still risks up to $2,000 in fines and 60 days to two years in jail.
With respect to his involvement with a non-profit organization created to aid in the construction of a wall along the southern border, the former Trump official was accused once more on Thursday on separate charges of alleged money laundering, conspiracy, and scheme to defraud.
More than two years have passed since Bannon was detained on federal allegations that he and three other men cheated donors who contributed $25 million or more to the "We Build the Wall" campaign. During the campaign, Donald Trump, who was the president at the time, received support for his plan to build a wall along the country's southern border.
On his final night in office, in January 2021, Trump granted Bannon's pardon in that federal lawsuit. Presidents may only pardon someone for federal offenses; they are not shielded from prosecution on state charges, such as the ones Bannon is currently facing in Manhattan. In April, Kolfage and a second individual, Andrew Badolato, entered guilty pleas to federal charges connected to the wall plot. In December, they are expected to get their sentences.
In June, a jury couldn't agree on a verdict in the federal trial of Timothy Shea, the third defendant in that case. Shea will be tried again the following month. In the indictment against Bannon on Thursday, none of the three men in that federal lawsuit were named as defendants.
References:
https://www.aljazeera.com/news/2022/9/8/trump-ally-steve-bannon-charged-in-donor-fraud-case
https://www.theguardian.com/us-news/2022/sep/11/trump-mar-a-lago-witch-hunt-fbi-doj-safety
Featured image: https://www.lemonde.fr/en/international/article/2022/09/09/steve-bannon-pleads-not-guilty-over-fraud-charges-for-trump-s-border-wall-funding_5996359_4.html