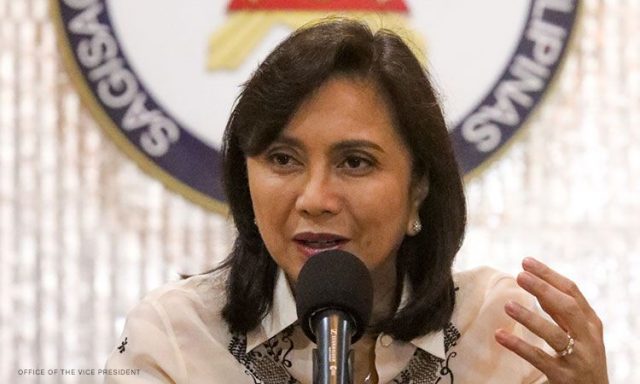 Manila, Philippines – The long queue of individuals who want to avail a free antigen test for coronavirus disease (COVID-19) at the "Swab Cab" of the Office of the Vice President (OVP) in Quezon City on Monday, Jan. 10, demonstrates the importance of free testing, said Vice President Leni Robredo.
Robredo, who oversees the implementation of his office's Swab Cab free-testing drive, said the lines were long at dawn at Immaculate Conception Parish Church in Novaliches.
She said this is "[an indication that many people want to avail a free swab test to determine if they have COVID-19 disease or not.] indikasyon na maraming tao ang gustong mag-avail ng libreng swab test upang matukoy kung sila ay may sakit na COVID-19 o wala."
She added, "The sheer number of people who showed up led the OVP Swab Cab team to set up extra swabbing stations to accommodate more individuals."
The Vice President said that of the 26 individuals, who were swabbed at 9:45 a.m., 11 tested positive while 15 tested negative for COVID-19.
"Yung pinakasadya po nitong Swab Cab, kasi ang access talaga sa swabbing medyo mahirap ngayon dahil dagsa, so yung ginagawa po natin, dinadala natin yung Swab Cab sa mga communities, [This Swab Cab is the most special, because access to swabbing is really quite difficult now because there are a lot of them, so what we do, we bring the Swab Cab to the communities,]" said Robredo.
Robredo promotes mass testing in an effort to reduce the spread of the disease. The OVP Swab Cab was launched last year following an increase in cases but it was halted with a decrease in COVID-19 cases.
However, the initiative was reactivated last week due to the resurgence of COVID-19 cases, especially in Metro Manila.
The aspiring President reiterated that tests on COVID-19 should be done free of charge and accessible to the public to determine who should be isolated or quarantined, and thus disrupt transmission of the virus.
"Marami yung na-expose. Hindi nila alam kung mayroon na sila, tapos pag swinab sila ay nagpa-positive. Ang kabutihan po ng alam nila kung positive sila o hindi, at least nakakapag-isolate sila kung positive sila. Hindi na sila nakakahawa ng iba, [Many have been exposed. They don't know if they already have it, then when they swab results turn positive. The good thing is that they know if they are positive or not, and at least they can isolate if they are positive. They can no longer infect others,]" Robredo insisted.
"Fortunately, more people are now cognizant of the value of having themselves tested," she added.
Robredo also said that while the OVP wants to conduct a daily Swab Cab, their staff and volunteers are also getting sick, prompting the office to budget its energy and time to ensure continuous continuous operation of the project.
The OVP Swab Cab will be at Payatas B, Quezon City on Wednesday, January 12.
Last week, it was at Visayas Avenue and Quezon Memorial Circle in Quezon City.
The Philippines had 33,169 new COVID-19 cases as of January 10, 2022.